Let's cut right to the chase. February was a disappointing month. I had a lot of big plans and I was probably too ambitious and now the fall-out has hit me hard.
But it's time to get out of this hole! Dwelling on the disappointments only leads to dark places. And there's no potential for creativity there.
So for this month's recap I'm looking at what went right. It's not much, but it's something!
Sparking Creativity
I started the month with inspirational vibes from Vanessa Carnevale. I sat in on an online author talk on her Facebook page and got to ask her questions and chat with other writers and readers. It was a really clever idea, and really lovely to converse about the creative space.
Similarly, at the end of the month I went on a roadtrip with my sister and we listened to a podcast where Elizabeth Gilbert spoke about living a creative life. You can find it here.
My husband and I also just went to the theatre and saw the Belvoir production of Jasper Jones, a book I read a few years ago and loved. It was a fantastic show and the adaptation of book to stage (and soon-to-be film) was very well done.
A few times throughout the show I caught myself thinking about the actors themselves, wondering what it must be like to live out your creative processes to a live audience. It's such a different world, but it's fascinating!
All those experiences really inspired me, and I think it's because it reminds me that I'm not actually alone in this creative thing! There's a whole world of us out there. And that makes it less scary.
Keeping Creative In More Ways Than One
I really love photography. I always have. So when I found Instagram I gravitated toward the 'bookstagram' sub-community.
Every weekend I spend an hour or two doing little photoshoots. I clear off my desk, look at some challenge prompts, and scan my bookshelves. It's really nice to do something creative that requires me to get out of my chair!
I've also been venturing into the 'booktube' and 'authortube' communities on YouTube and filming videos when I can.
It's another activity that feeds my creative brain, gets me standing and moving and talking – the total opposite of writing!
The only downfall is that since I've been spending more time on the weekends taking photos and shooting videos, I've spent less time writing.
And to be honest, I've had a pretty rough February for writing anyway. The words just won't come easy! So it's been nice to find alternate ways to stay inspired, even if it means I'm not putting words on the page…
But What About The Writing?
Okay, okay! Well, at the beginning of this post I said I was disappointed with my writing this month. That's why I've left it til last…
I went back to The Crossing this morning after not opening the document for two weeks. That was hard. I went to the chapter I'd been working on in February and checked the word count.
I'd written just over 4,500 words. That's around a thousand a week if you average it out. And you know what, I'm actually pretty chuffed with that!
I still have three chapters of The Crossing until the first draft is complete. And if I'm totally honest with myself, that could take three months to write. But I'd rather be a little more ambitious than that. I'd rather light a fire under my bum and see what happens.
So the new deadline is March. (I mean it this time!) My next step is to sit down and set myself some new goals for Autumn, really take stock of what I want to achieve across all facets of my writing life.
March is going to be hard. Harder than February. But I can't avoid writing forever! Remember when Ron read Harry's tea leaves in Divination? It'll be like that…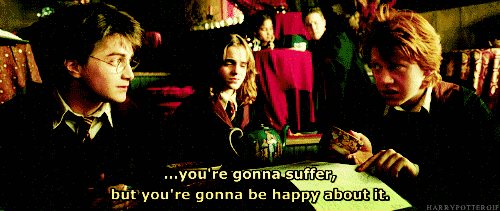 Save
Save